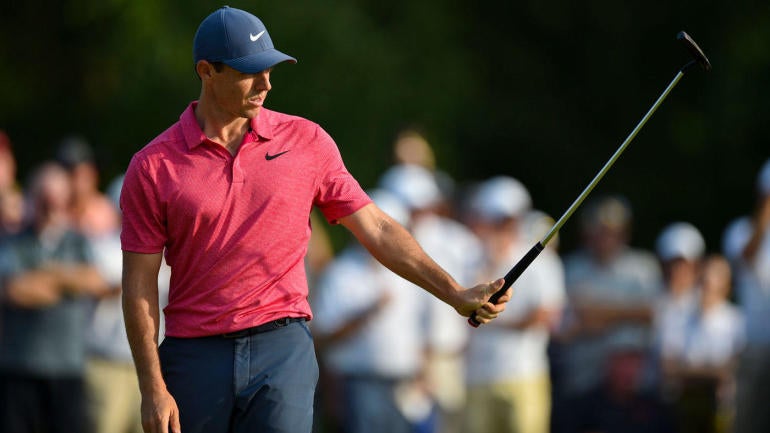 After Tiger Woods shot a 29 on his front nine on Thursday in Round 1 of the BMW Championship and touched off a wild 8-under 62, Rory McIlroy tried to steal the show. Then he tried to give it back. Eventually, he decided to just share it with Woods as he matched him with a career-low playoff score of 62 that included 10 birdies.
McIlroy, who started on the back nine on the course, birdied three of his first four holes and that was only a warm-up of what was to come. He went out in 31, and that's when it got completely bonkers. McIlroy made six birdies in a row starting on the 18th hole on the course (the longest such streak of his career), and every approach was inside 10 feet. You don't even have to be an average putter when you're hitting it like that. Oh, and McIlroy finished in the top five in the field in putting on the first day, too.
"I've been working on my wedge play a lot," McIlroy told Steve Sands of Golf Channel. "It's something I've struggled with this year, and it's been much better the last couple weeks. I've been happy with that. All these wedge shots I've been hitting has given me a lot of confidence. I wasn't taking advantage of the great drives I was hitting."
McIlroy got to 9 under overall through 13 holes, and the 59 watch that Woods had been on for much of the day suddenly got shifted over to McIlroy. He bogeyed the 16th and 17th holes he saw to fall off the clip, but a birdie at the last re-tied the lead with Woods at 8 under.
"Eight under is good," McIlroy said. "It probably should have been a bit better, but it's a great start to the tournament."
As for when he started thinking about potentially shooting 59?
"I think when I saw (Golf Channel analyst Jim) Bones (Mackay) come out and start following us," Mcilroy said. "I was like, 'Oh I might be doing something pretty good here.'"
It was, as it often is when McIlroy is feeling it, a thrill ride. Add in the fact that his round converged with the tail end of Woods' heater, and Aronimink felt like it was on fire for most of Thursday afternoon.
McIlroy has won just one time on the PGA Tour in the last two years — the 2018 Arnold Palmer Invitational — and his game hasn't been as sharp as he's wanted it to be. McIlroy skipped the first playoff event at The Northern Trust to get some extra work in and returned to a T12 finish at TPC Boston. It feels through Round 1 this week like he's found something.
"Everything was firing today," McIlroy said.
I'll say so, and now we might get a Tiger Woods-Rory McIlroy duel over the next two days (more on that below). Either way, a stretch of golf that can often be long and laborious got a jolt from two kings of sport on Thursday afternoon. I'm already ready for the encore.
Here are four takeaways from the first round of the BMW Championship.
1. Rickie's return: In his first tournament back since the PGA Championship, Rickie Fowler fired a tasty 5-under 65 to grab a spot just beyond the leaders. This was a good sign on multiple fronts as Fowler needs a good finish this week to make the Tour Championship, but he could also use a little lead time heading into the Ryder Cup in Paris three weeks from now. Fowler played bogey free, and it never looked stressful. I could not have been more impressed with his return from an oblique injury.
2. Bryson's bounce: The back-to-back playoff winner shot 67 in the first round at Aronimink and put himself in position to become the first player ever to win three playoff events in a single year. He was talking at one point on the broadcast about how degrees of loft in the fairway were affecting how many yards his ball was going to fly, which is just music to my ears. I want and need the full Bryson experience, and he seems intent on giving it week after week after week.
3. Wait, Finau, right? The presumption this week is that after his 12th straight round in the 60s, Tony Finau is going to be the last captain's pick for the Ryder Cup. But, ahem, what if Xander Schauffele wins this week? It would be awkward for the winner of the next two events and the FedEx Cup to be left home, wouldn't it? Schauffele fired a 7-under 63 and is one back of the lead after Round 1.
4. How good is this tournament?! After a couple of weeks of slogging golf, Thursday was a refreshing, seemingly more fast-paced affair rife with the biggest names on an amazing course. How good would it be to get a Tiger-Rory or Tiger-Rickie shootout on the weekend at Aronimink of all places? The golf always sucks me back in — even after a lengthy season — and that is certainly true so far this week.
CBS Sports was with you the entire way updating this story with the latest scores, analysis and highlights from Round 1 of the 2018 BMW Championship, particularly while Woods was on the course. If you are unable to view the live updates below, please click here.
Thanks for stopping by.