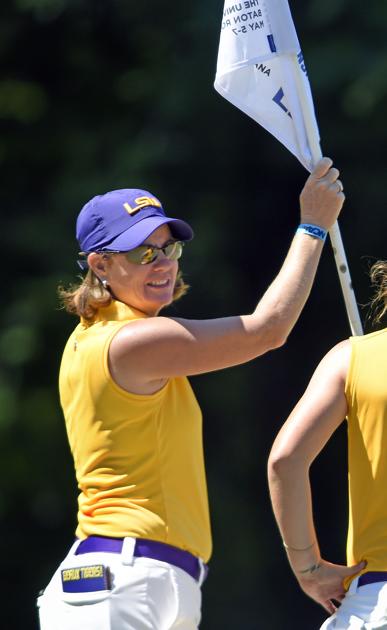 Next season, for the first time ever, the LSU's women's golf team will take the course without Karen Bahnsen.
Bahnsen, who has been with the program since its inception as its first signee, announced Friday that she is stepping down after 34 years of coaching.
Her immediate plan involves caring for her ailing father and taking a position with the Tiger Athletic Foundation, LSU's fundraising entity.
"I lost my mom six months ago and my dad is battling health issues," Bahnsen said Friday afternoon after LSU released a statement on her retirement from coaching. "I have to take care of him.
"It's been hard trying to be a great coach and take care of dad. It's time to put family first. But it's very difficult because this program means a lot to me."
Bahnsen leaves as the second-longest tenured coach in LSU athletics history behind only gymnastics coach D-D Breaux, who just completed her 41st season.
"This is a celebration of one of the truly great coaches and people we have had at LSU," athletic director Joe Alleva said in a written statement. "Records and champions are one thing — but she has influenced generations of people with her enthusiasm, intelligence and loving support."
The story of the LSU women's golf program is, basically, the story of Bahnsen's life.
In 1979 she was a prep All-American at McGill-Toolen High School in Mobile, Alabama, when she became coach Mary Rehling Holmes' first recruit.
After Holmes left the program in 1982, then men's coach Buddy Alexander also took over the women's program. After her graduation from LSU in 1984, Bahnsen (she is married to senior associate athletic director David "Bo" Bahnsen) was offered the opportunity to lead the women's program.
During the past 34 years, Bahnsen's teams have won 40 titles, including the 1992 Southeastern Conference championship at Santa Maria Golf Course. LSU's Kristi Coats won the SEC individual title the previous year. Bahnsen's teams have finished as high as third in the NCAA championships twice, with current LPGA touring pro Austin Ernst taking NCAA individual medalist honors in 2011.
"The wins are fantastic," said Bahnsen, 57. "But this isn't why I've done this for 34 years. I'm proudest of the relationships I made with the girls. That means a lot to me."
Though the program has struggled the past couple of years, Bahnsen said the decision to step away from coaching was entirely her own.
"This is my decision. Joe (Alleva) came to me and said, 'Karen, you can coach as long as you want," Bahnsen said. "They wanted me to stay involved, so that's where the job with TAF came into play."
Bahnsen said she is looking forward in her new role to help all of LSU's athletic programs through fundraising.
"I will help with donor relations and help the coaches on staff," she said. "I know what their needs are. I will be serving not only women's golf but all the teams. The fact they want me is wonderful."
Karen Bahnsen's career by the numbers
1 SEC championship (1992)
1 NCAA individual champion (Austin Ernst, 2011)
2 SEC coach of the year honors
7 NCAA top-10 finishes (including third place in 2011, 2012)
12 NCAA finals appearances
23 All-Americans
23 Former players on professional tours or working as golf professionals
33 WGCA scholar-athletes
40 team tournament titles
46 All-SEC players
124 Academic All-SEC and freshman academic All-SEC honorees
2008 Women's Golf Coaches Association Hall of Fame inductee
2015 Mobile (Alabama) Sports Hall of Fame inductee
Follow Scott Rabalais on Twitter, @RabalaisAdv.​