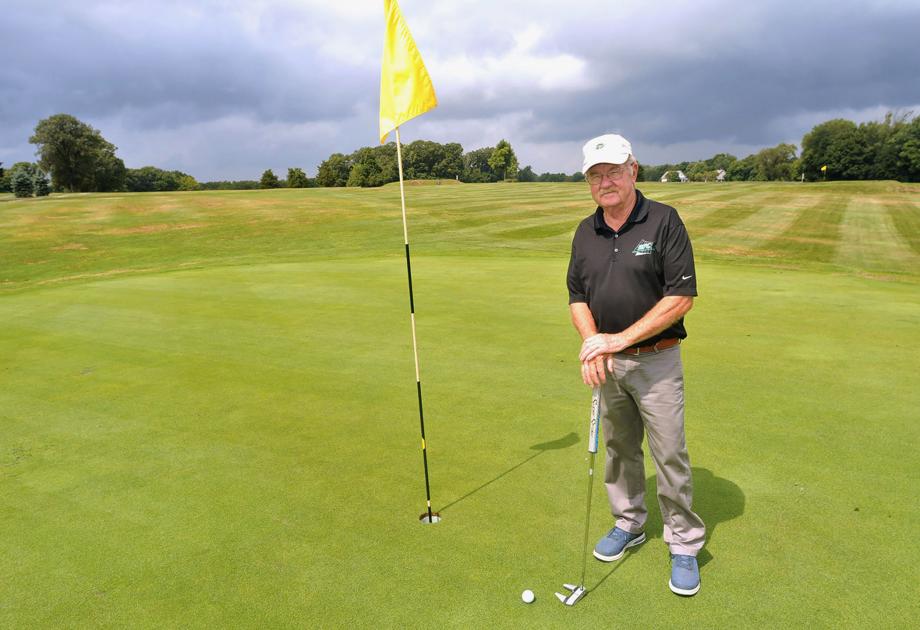 There are long days in store for Attleboro Area Golf Association committee members and volunteers, a self-inflicted assignment that helps bring about one of the area's top golf tournaments.
The four-day AAGA Open began Thursday, with 99 golfers teeing off at Foxborough Country Club. And a change to the tournament's format means an even longer haul for its staff.
For the first time, the AAGA Open is cobbling together groups of three for the opening two rounds, mirroring the format of the final two rounds. The change, implemented by co-presidents Bob Beach and Bob Gay, was made to remove the needlessly long rounds caused by foursomes. Indeed, during the qualifying round, the association found that it could trim as much as an hour off a group's round time. Under the new format, all players will tee off from the first hole, with tee times scattered from 7 a.m. to 12:20 p.m.
"(Foursomes were) almost guaranteeing a round of roughly five-and-a-half hours," said Beach. "As the day went on, the last groups were closing in on six hours. We realized this isn't a lot of fun for the players themselves."
So, Beach and company were content to spend a couple extra hours at the golf course — no twisting their arms — as long as it meant a better experience for the players.
"It's a much longer day for the committee and the people that work on the tournament," he said. "However, we feel that this is a much better situation for the players themselves, which is obviously the most important thing that counts here."
Beach, 70, certainly understands the player's perspective. Not only has he served a total of 34 years in a leadership capacity, he has played in the tournament off and on dating back to its first few years. Golf nut that he is, Beach has a spreadsheet detailing all the courses he's played over the year, which totaled 566 on his last check.
St. Andrews, Carnoustie, Troon and Turnberry — all in Scotland — are among some of his favorite courses, though Beach says his top choice might be nearby, Eastward Ho Country Club in Chatham.
"There are some dogs in (among the 566), and some real nice ones," he said. "We don't very often go on vacation without the clubs."
Gay, 66, also loves the sport, but perhaps not to that level. "I love golf, but I can't compare with him," he said.
But Gay did attend the first ever AAGA Open in 1961 as a youngster, and has been a fixture ever since. He started playing as a high schooler in 1969 before joining the association's officers in 1983. "I've always been involved," Gay said. "I don't think I've ever missed a weekend."
Over the last dozen years, Beach and Gay, along with other officers and committee members, have complemented each other's efforts to keep the tournament going strong. Gay handles tournament awards, meetings and agendas, while Beach handles the more golf-centric matters. In fact, Beach's well-known propensity to brainstorm tournament ideas is what got him involved in the first place.
Beach recalls a stroke of brilliance during a cart ride in either 1969 or 1970 with George Fredette that helped kick-start his AAGA service.
"I said, 'George, why don't we get a big blackboard and tie it to the back of the cart and write their numbers on the back?'" Beach remembered. "He looked at me and said, 'That's a great idea!' I think it was the next spring that they asked me to join the committee."
Since then, the committee has had a few other good ideas, including a scholarship it has awarded for 31 years, its Hall of Fame, and a Junior Clinic, which drew 100 kids to TPC Boston last June.
Beach also maintains relationships with each of the individual clubs, which, this year, includes Foxborough Country Club, Wentworth Hills Country Club and Norton Country Club. The AAGA's reputation proved crucial twice in the last few years, first when the nine-hole Locust Valley GC closed in 2016, and again this year, when Highland Country Club filed for bankruptcy.
The former closure left the AAGA scrambling with just five weeks before the Open, Beach said, but the Finocchi family offered Wentworth Hills at the last minute. That family came through again this year, providing Heather Hill Country Club in Plainville for the third round of play Saturday.
"If you had told us five years ago that Locust and Highland would not be around anymore, I don't think many people would have believed that," Gay said. "We have some great people that we work with, the ownership at Wentworth Hills and Heather Hill."
Said Beach, "Our relationships with those golf courses (are) what makes all of our events. We do make sure that they know that we are their guests."
The absence of those two Attleboro institutions continues to change the atmosphere of the AAGA Open, which has seen an influx of younger, more skilled golfers over the years. Gone are the days when workers would pour out from the factories and pack the Attleboro courses as spectators and players.
"It was a very blue-collar type of experience and event," Gay said. "Today, you look at the scoreboard the last day, it usually is about half of people are 30 (years old) or below."
Beach, who said the number of participants has been fairly flat over the last five years, agrees.
"There are so many young people that come along to play that get into the qualifying field and get into the tournament, it's difficult to keep up with them," he said. "But it's not an exclusive club by any means. The more, the merrier; and the more diversified, the merrier."
The AAGA caters to those skilled golfers, yet also aims to provide a big tournament experience for frequenters of local courses. And there are still plenty of familiar faces, including AAGA secretary Steve Nelson, who will tee off this year to celebrate the 50th anniversary of his first AAGA Open. Indeed many staff members have competed over the years, which show the pride and ownership they take over their tournament responsibilities.
"It's four long days, but you want to make sure everything goes well and everything is set up right for the players," Gay said.
"You show me anywhere in the country where you can play a four-day golf tournament on four golf courses for $100 — not gonna happen," Beach said. "Everybody does their part. It's a lot of work, but at the end of the day, it's a good feeling when people come up to you and say how much they enjoyed the tournament. That's what we try to keep going."