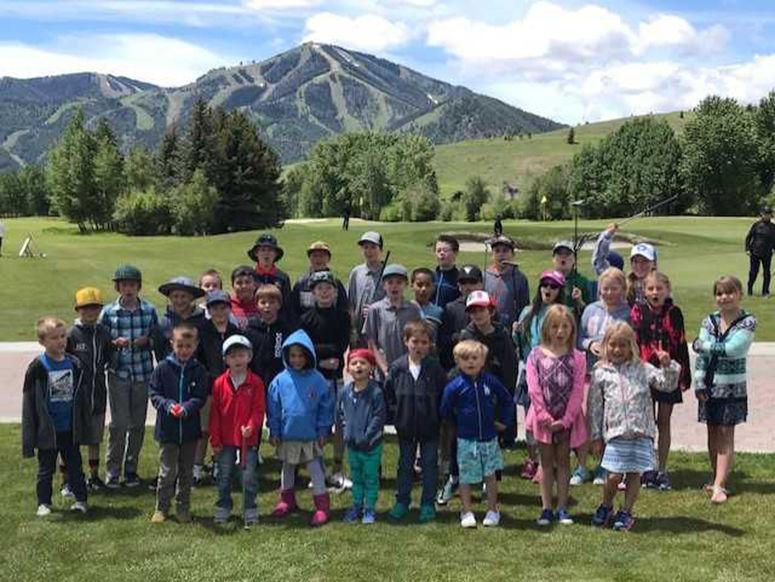 Junior golf and scholarships for high school graduates were the real winners when the 21st annual Chuck Gates Memorial golf tournament was played June 10 at Sun Valley Golf Course.
    "Tee it high and let it fly," was Gates' motto. That's what 24 foursomes and 96 participants did over 18 holes of the Trail Creek Course in the best-ball scramble format.
    Chuck Gates Youth Golf Endowment board president Roger Roland was thankful for the support and also overjoyed that a record number of junior golfers joined the fun during the pre-tourney putting meet.
    This year's Chuck Gates low gross winners with a team score of 55 were Bob Dunn, Dave Klemer, Cooper Minnis and Mark Belanger.
    Second low gross with 58 were Gardiner Young, Elyse Smidinger, Greg Fairfield and David Demkovich.
    "Most Strokes" prize with 75 went to Vivian Petersen, Tyler Petersen, Susan Petersen and Jeff Petersen.
    John Kaiser and Spyder Stevens claimed closest-to-the-pin men's honors.
    Women's closest-to-the-pin winners were Jennifer Harper on No. 6 and Danielle Doerflein on No. 10.
    Long drive winners were Rian Mayer on No. 9 and Danielle Doerflein on No. 1.
    The tournament is named for Chuck "C" Gates, who died Dec. 6, 1997 in Nevada at the age of 51. A passionate golfer, Gates started Ketchum's first radio station, KRMR, and was a co-founder of the Idaho Mountain Express newspaper.
    This year's tournament was dedicated to the late Gerry "The Boy from the Bronx" Ryan, a frequent tournament player and longtime supporter of the Gates Memorial.
    Previous Gates meets have been dedicated to Bill Butterfield in 2005, Bob Doyle in 2008, Mary Lou Simpson 2009, Doyle Corbett 2010, Tim Appleton 2011, Woody Stuart in 2012, Rafer Lutz in 2013, Mark "Sparky" Anderson in 2014, Lonnie "Dart" Lindquist in 2015, women's golf pioneer Beverly Hanson in 2016 and to John Kearney Jr. in 2017.
Putting tournament a big success
    Hemingway Elementary School fifth-grader Owen Walker (48) won the Chuck Gates Junior Putting Contest held for the ninth year on Sawtooth Putting Course just prior to the Gates Memorial.
    In all, 46 children participated, by far the largest such contingent in nine years.
    Organizer John Kearney said, "Fun was had by all the 2-15 year olds. Most played 18 holes. We want to thank all of the parent volunteers who supported their children and helped score and manage play.
    "Cheers to Roger and Jill Roland and Jeff Petersen for hosting the tournament, which was sponsored by the city of Ketchum Recreation Department, C. Gates Youth Endowment and Sun Valley Resort Golf Course."
    Top putting contest results from the June 10 meet:
    Ages 2-7: Max Smith 73, Tanner Barrett 78 and Leyton Thompson 85.
    Ages 8-10: Hadley Walker 54, Henry Mahoney 59 and Will Hausmann 62.
    Ages 11-15: Owen Walker 48, Ethan Gray 50 and Jack Bulls 54.
C. Gates junior golf July 20
    The 15th annual Chuck Gates junior golf tournament will be Friday, July 20 at 1 p.m. at Bigwood Golf Course north of Ketchum. Juniors ages 7-18 are welcome to play.
    The $15 entry fee includes a barbecue after the tourney. Flights of three, six and nine holes will be available. Some golf experience is necessary for the youngsters signing up.
    Register by Wednesday, July 18 at 4 p.m. by calling city recreation supervisor John Kearney at 726-7820 ext. 100 or via email at jkearney@ketchumidaho.org.
    Gates Memorial golf tournament results follow:
     1st gross (55)—Bob Dunn, Dave Klemer, Cooper Minnis, Mark Belanger.
     2nd gross (58)—Gardiner Young, Elyse Smidinger, Greg Fairfield, David Demkovich.
     1st place (55)—Hunter Storey, Adam Quarles, Daniel Hollis, Sam Mondragon.
     2nd place (58)—Alan Dickerson, Aaron Aardema, Nick Daveys, Ethan Shortridge.
     3rd place (58)—Shawn Aicher, Mike Neary, Josh Solly, Mark Osmer.
    4th place (59)—Dave Penn, Gary Moser, Austin Cobb, Clif Neely.
     Ryan Thomson, Bryan O'Connell, Eli Conrad, Justin Taylor;
     Matt Walker, Michael Bulls, David Lipman, Chris Abbott;
     Phil Doerflein, Ann Doerflein, Danielle Doerflein, Brock Mary;
     Will Duval, Tate Berry, Mark Watson, John Kaiser;
     Jolie Dunn, Marcia Rankin, Jennifer Harper, Hayley Walsh;
     Alex Bliss, Aaron Taylor, Charlie Kucher, Tyler Jones.
     1st place (58)—Doyle Corbett, Brenda Griffin, Jill Roland, Kristin Derrig.
     2nd place (59)—Neil Morrow, Mike Ryan, Rian Mayer, Matt Tatham.
     3rd place (59)—Will Spiller, Roger Roland, Daniel Sundali, Ross Bird.
     4th place (60)—Doug Webb, Juli Webb, Owen Walker, Ethan Gray.
     D.J. Hart, Val Gillespie, Byron Karrys, Ron Wentzell;
     Olin Glenne, Mike Pirzynski, Jim Rollerson, Jonathan Lunceford;
     Jackie Damerel, Doug D'Andrea, Janet Bostwick, Spyder Stevens;
     Janet Appleton, Glenn Thomas, Judy Locke, Alvaro Jiraldo;
     David Johnsen, Christy Luby, Conor Collins, Maggie Kohls;
     John Kearney Sr., John Kearney Jr., Wilson Dunn, Toby Molter.
     Mike Hawkins, Bob Jurask, Todd Olson, Crazy Amy;
     Vivian Petersen, Tyler Petersen, Susan Petersen, Jeff Petersen.