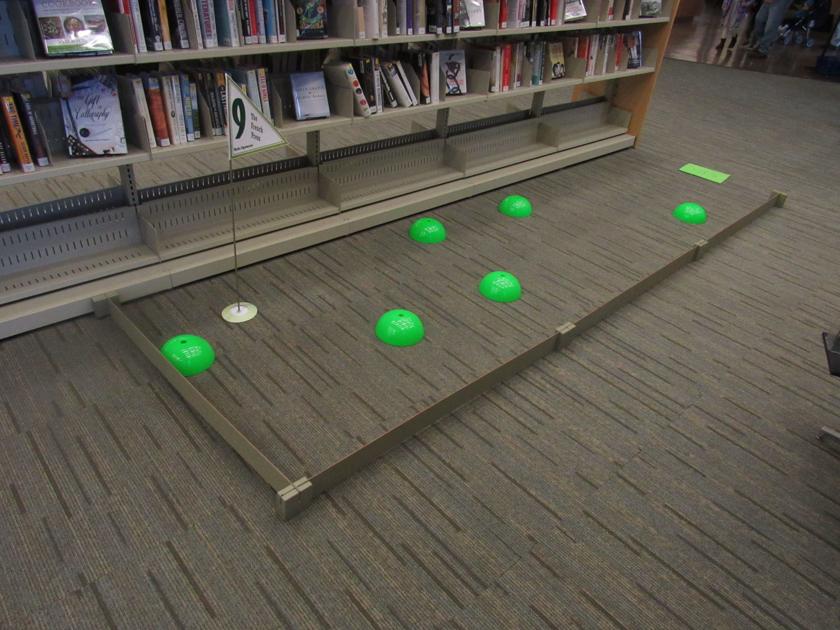 The Waynesboro Public Library hosted a homemade golf course on Saturday. Sporting 18 holes, each homemade putting green was filled with hazards made from items around the library. It is not uncommon to see that globes and books have been incorporated into the game.
This course was funded by the nonprofit group Friends of the Waynesboro Public Library, an organization that supplements the library's budget in order to finance events the purchase of equipment. Each of the holes was dedicate with a small flag to one of the sponsors of the event.
"We did this a few years ago," said Kathy Hiserman, the publicity coordinator for the library. "Our first one was really, really successful. So we thought we'd give it a try again."
The course goes throughout the entirety of the library, starting in the children's literature section and wraps back to the young adult area before going upstairs and then to the bottom floor. The green for the last hole is on the stairs to the bottom floor.
"This is actually a really large event for us," said Hiserman said. "Most of our events usually have a smaller attendance."
A raffle ticket was included in the cost of admission, so all of the golfers were entered into a raffle with the chance to win Visa gift cards for $25. Two golfers were selected, and further information is available on the Waynesboro Public Library's Facebook page.
Along with the raffle were other prizes for finishing the course, including candy for the smallest golfers. And while golf was the main event, it was not the sole attraction. The lower level of the building boasted a wide array of extra activities.
"We have cornhole, photo ops, we have popcorn, and face painting," Hiserman said.
The Waynesboro Public Library has other events on the horizon, as well. Many of these are also suitable for all ages. Hiserman emphasized the Valen-Pup part on Tuesday, Feb. 12, when children will be able to read to therapy dogs.