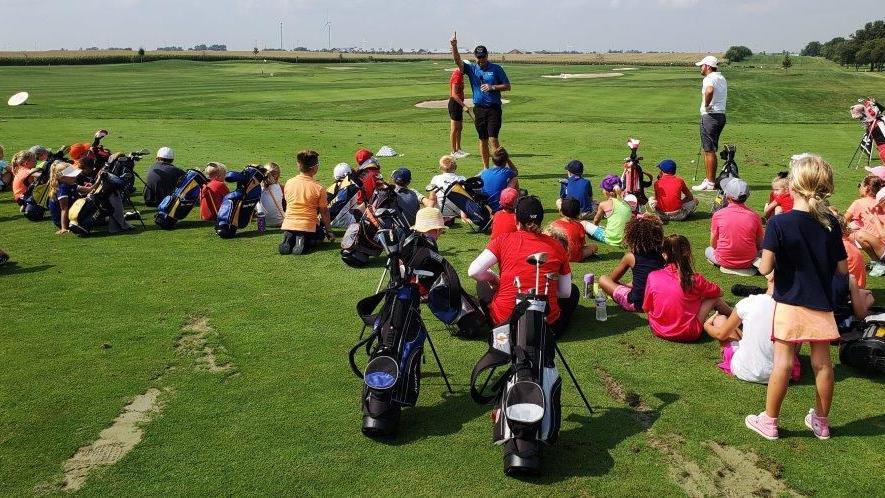 The face of Illinois State golf pulled his cart over next to a group seated on the grass in a small circle. Included was a member of the ISU women's golf team and four junior golfers … as in very young golfers.
"Are you having fun?" asked D.A. Weibring.
"We're talking ice cream flavors," the Redbird player responded.
The young faces on her "team" smiled in unison.
Clearly, not everything was about golf Saturday at ISU's Mounier Golf Training Center. That's OK.
The game was still at the core of this steamy afternoon, drawing nearly 80 junior players to a free clinic. The goal of the second annual event was to blend current players with aspiring ones through Illinois State golf.
Following brief instruction from ISU men's coach Ray Kralis, women's coach Breanne Hall and Weibring, the former Redbird star and longtime PGA professional, members of ISU's men's and women's teams each were assigned a group of four to five juniors in playing a few shortened holes.
They hit shots, made putts, learned some golf etiquette and talked ice cream flavors. Weibring enjoyed every second.
"We want the community to see how the Redbirds are giving back to the community," he said, looking out at the 16 groups sprinkled about. "I think this goes hand in hand with what we're doing as far as raising money from alumni and supporters of the (golf) program … the money is going right back into the golf course that everybody can share in."
That the adjacent course bears his name — Weibring Golf Club — explains some of Weibring's passion for all of this. It goes deeper than that.
The 1975 ISU graduate is grateful for what the Redbird golf program provided him in regard to a scholarship, competition, travel, a degree. So he preaches to former and current ISU golfers the importance of "giving back."
Saturday, that meant sharing the game and roughly 90 minutes with youngsters who, in many cases, were swinging clubs taller than they were.
"Give before you get," said David Perkins, a talented junior on the men's team. "That's a big quote of his (Weibring). He really rubs off on what we do and how we run the program. To give kids this opportunity is really good for the game of golf and good for ISU."
A dinner and auction on Thursday night at the Hancock Stadium Club was followed by The Players golf outing Friday. Money was raised for projects at Weibring Golf Club that will benefit ISU's teams and the public alike. The list includes building tees and bunkers, pruning trees, a lake project and, eventually, a team building at the training facility.
It's a lot and Weibring knows it. That's why he's adamant that former Redbird players be the first to write checks and "give back."
Caitlin Sims is aware. A senior on the ISU women's team, she says she is "already sad about leaving."
A future trauma nurse who has a job awaiting her in Springfield, Sims does not plan to turn her back on Redbird golf. She intends to return and give back.
"Being able to come back and see how the program is growing, I think I will make it a priority," she said. "This school holds a very special place in my heart. It's done nothing but help me grow and grow and grow.
"This is awesome to see how many kids in the Bloomington-Normal area are trying to play golf and how we can help grow the game."
Weibring Golf Club has a junior program led by assistant professional Stacey Miller. Like Saturday's event, its mission is to introduce young players to the game and help them develop a passion for it.
Weibring considered that connection when designing the training facility.
"This was designed to not only be a world-class training facility, but also with this in mind," Kralis said, pointing to the young people playing Saturday. "You could set up a short course and introduce them to the game in a way that doesn't overwhelm them.
"It's a wonderful opportunity to get people excited about it and excited about Redbird golf. Our student-athletes shine in this role. To see them with these young people, they are at their best."
Hall, who is in her first year at ISU, called it "fabulous." Weibring Golf Club head pro Laura Provost went with "fantastic."
"It's pretty cool," she added.
That it was, even on a hot day. Just one thing was missing.
Contact Randy Kindred at (309) 820-3402. Follow him on Twitter: @pg_kindred