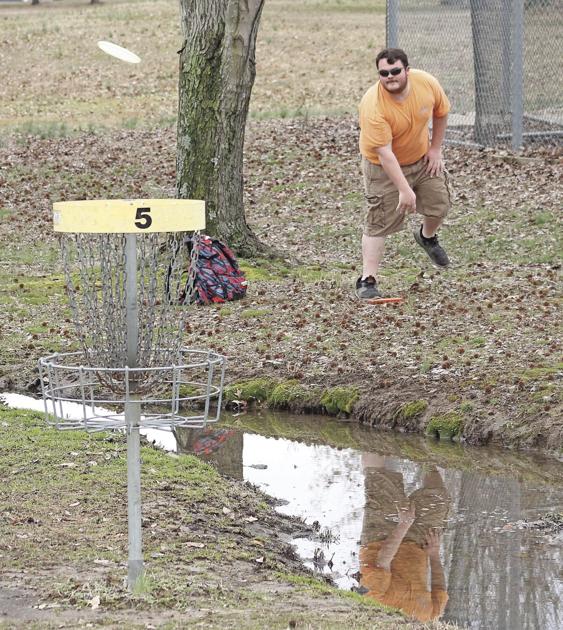 MURRAY — The popular disc golf course at Central Park in Murray will be receiving some improvements after the Murray-Calloway County Park Board approved the plan Monday night. 
Dan Thompson of the Murray-Calloway County Disc Golf Club submitted the proposal ahead of Monday's evening, as he would be absent. That did not prevent the measure from being considered, as it called for a little less than $4,000 in services to the course, namely the installation of 10 new targets (which resemble baskets and mark the equivalent of holes to actual golf). 
"Our local disc golf club has saved $1,300 toward the goal of adding 10 targets," Thompson said in a letter to the board that explained the proposal. He said he will handle the rest of the cost himself. "For around seven years now, we have had two different placements for targets on 10 of our original 18 holes. Those targets are periodically moved from one placement to another to provide variety."
Thompson also said in his letter that this will fall in line with the nine additional holes that were added two years ago, taking the course to 27 holes. Each of those new holes have two targets each, red for players who prefer shorter and yellow for longer. 
"These new holes are an example of what I would like to see on the older part of the course," he said.
In addition, Thompson said the proposal calls for stripping the 18 original stainless steel target tops to restore them to factory condition. He said 10 of them would be painted red and the remaining targets would be yellow. In addition, a firm has offered to replace the chains on each basket at no cost. 
With March more than halfway over, it is now time for board members to start looking at the annual budget for Murray-Calloway County Parks & Recreation. 
The first steps in this process were taken Monday as the Finance Committee of the board met prior to the full board meeting. No action came from the meeting, but it appears committee members did form a plan for attacking this process, starting with perhaps making charges in how finances are presented. 
"I think our first task is to condense our list down. When you look at this, it can be overwhelming," said Parks Director Ryan Yates, who gave an example. "I'm looking at our income for February and I've got two different items for Christmas in the Park (known to most as Festival of Lights). Then, I look on the expenses and I've got 'Christmas in the Park maintenance' and 'Christmas in the Park CIP.' These can all be condensed down to one line item, I believe."
Finance Committee Chair Carissa Johnson said she noticed the same thing.
"I just think they can be grouped better," Johnson said. "I think it would be easier to read if we didn't have all of the duplications of line items."
Calloway County Magistrate District 4 Paul Rister, who is in his first year with the board, said he decided to take a look at budgets going back as far as 2015-16, because he wanted to see something specific. 
"I want to see where our major income is coming from," Rister said. "I'm seeing, for certain, that we have the money from the city and county governments, along with the pool and baseball/softball. I'm also noticing a few that are really inconsistent. I understand that (baseball/softball) tournaments can be a big thing, but you also can have 10 rainouts."
Another issue that was discussed was whether the committee actually needed to meet in person. 
"We do email chains at my office and it works well," Johnson said, her comment immediately met with approval from Park Board Chairman Jason Lovett. "I'm not bothered by that idea at all," he said. 
Yates seemed to favor meetings. 
"I try to get the board as involved in these things as I can and that's why I want to meet with you," he said, though he did seem to agree with Rister's offer for a one-on-one discussion. "But I just think that, if we have something that comes up that maybe someone doesn't understand, maybe one of you can explain it better for another person while you're here."
Johnson said she would like for the committee's work to be over by some time in April so the full board can receive the budget in a way that would make having the two required votes on it go faster. 
Yates also updated the board on registration for baseball/softball and tee ball leagues. He said registrations are a bit down this year, going from 615 last year to 527 so far this year. He said he expects to finish at about 545. 
The board also voted to keep Murray's Bailey&B photography business as the photographer for baseball/softball and tee ball for 2019.