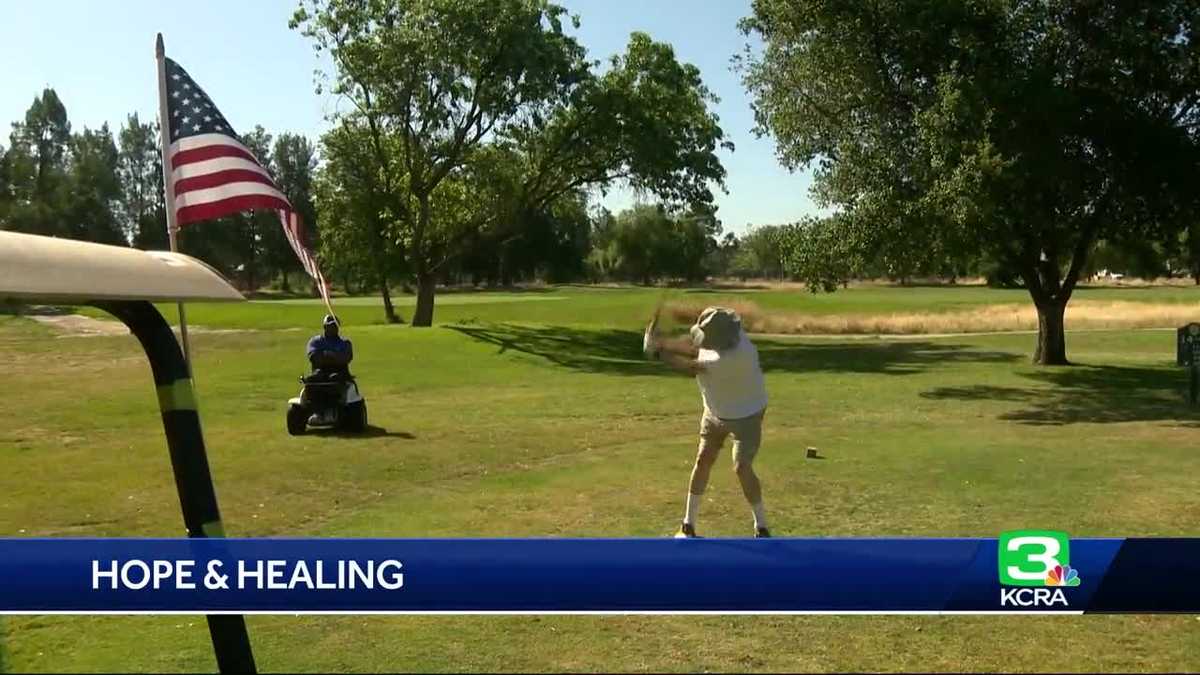 Program aims to give veterans hope, healing through golf
28 graduates completed the 6-week program

Hide Transcript
Show Transcript
WEBVTT >> LOOK AT THIS YOU TO BE OUTSIDE AND AMONG FRIENDS. MICHELLE: BROTHERS AND SISTERS IN ARMS, BANDED TOGETHER ON THE GOLF COURSE. >> YOU LOOK FORWARD TO MEETING THE GUYS. MICHELLE: PGA HOPE, A YEAR-ROUND MILITARY PROGRAM INTRODUCING THE GREAT GAME WHILE GETTING VETERANS ACT INTO THE SWING OF LIFE. FOR THESE VETERANS, IT IS MORE THAN THE FUNDAMENTALS OF GOLF, IT IS ABOUT BUILDING ON A BOND OF BROTHERHOOD. >> WE UNDERSTAND EACH OTHER, WE HAVE BEEN THROUGH CONFLICTS. >> YOU STILL FEEL LIKE YOU ARE SERVING, WITH THAT BAND OF BROTHERS. MICHELLE: A CONNECTION ON THE COURSE, AN OUTLET TO ENHANCE THEIR WELL-BEING. >> SOME OF THEM HAVE NOT BEEN OUT OF THE HOUSE IN YEARS. MICHELLE: LIKE ARMY VETERAN ANTHONY, SERVED IN IRAQ. >> FACIALLY STAY INSIDE THE HOUSE FOR THE MOST PART — I USUALLY STAY INSIDE THE HOUSE FOR THE MOST PART, I AM NOT TOO COMFORTABLE BEING OUT AND ABOUT. BUT BEING WITH THESE GUYS AND PLAYING THIS GREAT GAME, IT HAS OPENED MY EYES TO NEW THINGS. MICHELLE: THE PROGRAM ALSO APPEARING AIR FORCE VETERAN KEVIN WITH ADAPTED EQUIPMENT, ALLOWING HIM TO STAND AND SWING AT THE BALL. >> IT MADE ALL OF THE DIFFERENCE IN HOW I CHANGE, — AND HOW I PLAY THE GAME. MICHELLE: 28 VETERANS GRADUATING FROM THE SIX-WEEK PROGRAM, WITH ANTHONY NOW THE NEW OWNER OF A SET OF GOLF CLUBS. >> I GET TO GET MY FAMILY INTO IT. MY 5-YEAR-OLD DAUGHTER LILIANA. SHE IS AMAZING. >> ANY VETERAN SITTING AROUND FINDING — HAVING THOSE DARK MOMENTS, FIND SOMETHING, FIND A BUDDY AND TAKE THE FIRST STEP HE
Program aims to give veterans hope, healing through golf
28 graduates completed the 6-week program
SACRAMENTO, Calif. (KCRA) —
Assimilating back into civilian life can be a struggle for military veterans, but one program aims to provide hope and healing through the game of golf.
Twenty-eight graduates completed the six-week PGA HOPE (Helping our Patriots Everywhere) program Friday at Haggin Oaks Golf Complex.
Watch the story above to learn more.