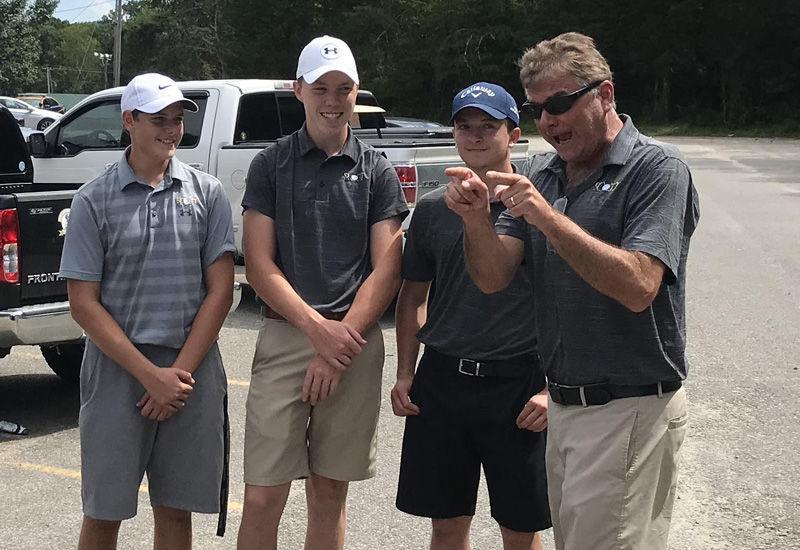 Winning the Cardinal Conference tournament doesn't mean a whole lot in terms of the prep golf postseason, and Scott is all too aware of that.
The Skyhawks won the 2017 event, but then finished third in the Class AA Region 4 tournament against most of the same teams a few weeks later, missing out on a team berth into the state tournament.
But this year, Scott will have a chance to rectify that as the Skyhawks shot a combined 260 to win the Cardinal Conference championship again on Wednesday at Big Bend Golf Course in Tornado.
Scott was led by a 2-over-par 73 from senior Ryan Butcher, good enough to win medalist honors by four shots over Herbert Hoover's Bryson Beaver.
Winfield finished second in the team standings, 10 strokes back at 270, with Chapmanville coming in third at 285. Teams competed with four players, with the top three scores counting toward the team score. Seven full teams competed, and Herbert Hoover had an additional two players competing as individuals. The top eight finishers earned All-Cardinal Conference honors.
"I'm very happy, I've got three good seniors and they're just nice to be around, they're just great kids and they can play," Scott coach Paul Carden said. "Back-to-back is nice for these kids, because they've worked really hard."
Butcher, who finished 11th in the state tournament last season, missing the All-State team by three spots, has grown several inches over the past three years, helping to hit the ball longer off the tee and strengthening his game as a whole.
"I've had a few growing pains here and there, but it helps to hit the ball a little longer so it's worth it," Butcher said.
Butcher was supported by a 79 from fellow senior Chase Hager on Wednesday, with those two putting the tournament out of reach for all intents and purposes.
While Butcher admitted he was pleased with coming out on top of the individual standings, he also mentioned the motivation he and his teammates feel after coming up just short of the state tournament a year ago.
"We've got a good team, and to make it, everyone has to play well," Butcher said. "It feels good to come out and have a good round and know you can do it.
"This was a goal of mine. I really wanted to get Cardinal Conference player of the year and it feels good."
Nine out of the 10 teams in the league compete in the same region where the top two teams and top two individuals not on winning teams advance to the state tournament. Only Hoover (Region 2) goes elsewhere for regional play.
Region 4 is also held at Big Bend, so it's hard to imagine a better indicator or tune-up than the Cardinal tournament provides. The Region 4 tournament is scheduled for Monday, Sept. 24 and will also include Lincoln County and Point Pleasant.
"You get to see everyone and so you know what you're facing next month," Butcher said. "Its nice to know everyone is here and you're not missing out on anything."
"This is a good indicator," Carden added. "It's awesome for our kids because not only do they see we can win the region, but it's a heck of a confidence builder."
Both Carden and Butcher agreed a valuable lesson was learned a year ago in Carden's first year at the helm. Butcher earned his way into the state tournament anyway, but after going his freshman and sophomore seasons with his teammates, he admitted last year's experience wasn't quite the same.
"It was kind of a heartbreaker because we were confident coming in and just couldn't get it done … it was just rough," Butcher said. "It gives us a lot of motivation. We hated missing. It sucked to miss and we want to be back really bad. We've worked hard.
"I enjoyed making it last year, but it's a lot better with your team."
Joining Butcher, Hager and Bever on the all-conference team on Wednesday were Poca's Jacob Blizzard (81), Chapmanville's Reed Dingess (82), Winfield's Chase Milbee (84), Wayne's Cole Kiley (87) and Winfield's Logan Lightner (88).