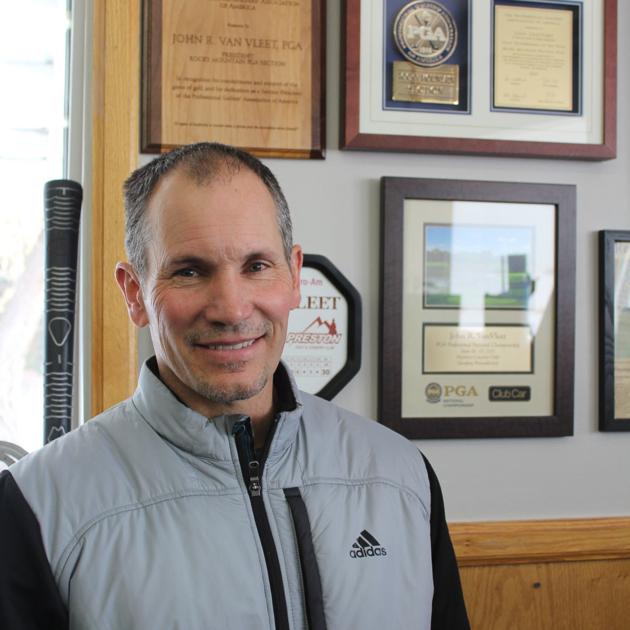 John Van Vleet, Preston, was just named the Rocky Mountain Section Professional Golf Association's Golf
Professional of the Year.
Van Vleet has been a member of the PGA of America for 21 years, serving five clubs during his career. The last 14 years he has been the golf pro for the Preston Golf and Country Club.
The PGA Golf Professional of the Year Award is the highest honor paid to a PGA professional.  The honoree is chosen based on his or her outstanding leadership abilities, exceptional performance as a PGA Professional, and distinguished service to the Association and the game of golf.
 According to the Rocky Mountain PGA website, "it is easier to describe what John doesn't do. Other than payroll and taxes, John does everything from club repair and banquet prep to running events and changing tires. Having a limited club budget puts it all right on John to get everything done every day. Even though John has not yet reached his 50th birthday, he has an old school heart when it comes to his work ethic and character."
"Quite simply, the buck stops with John at Preston Golf & Country Club." 
 In addition to all of his club responsibilities, Van Vleet is finishing his 12th year on the Section Board having gone through all the chairs at the chapter and section level. His two-year term as section president ends in May, when he will be formally honored. At that time, he moves to the past president's chair for his last stint as an adviser and guide to all section affairs.  
The RMPGA extends from the Idaho/Canada border, through Idaho, Nevada and to the California border.
"John has served his section with distinction as a rules official, a multiple time committee member and chairman, and a go to for technology assistance and education. John refers to himself as a reluctant leader, but one that never shies away from doing whatever is necessary to get a job done. He is truly a consummate professional and his leadership by example will continue to be role model worthy for anyone paying attention." 
 This is the second time Van Vleet has been recognized as the RMSPGA Golf Professional of the Year having garnered the award in 2007, as well.  He has played on 10 Carter Cup teams, qualifying for several others, and he played in the 2011 PGA Professional National Championship. 
"John is a fine player. If you throw in a little 58 he shot in his own Pro-Am, John's playing resume can only make you nod in approval," states the website. 
In addition, Van Vleet is the coach of the Preston High School Golf Team and teaches SNAG golf to elementary school children. He speaks regularly at the Preston Rotary Club and administers fundraising events for the Franklin County Healthcare Foundation, the Lions Club, and the Elks Club of Preston, and serves as the financial clerk for his ward of The Church of Jesus Christ of Latter-day Saints.
Van Vleet said he loves the Preston course, which is not only "great for beginners and locals," but hosts both professional and amateur tournaments.
"There is one of those every Monday, March through October, he said.